Le Colombier is a traditional Marseille pie usually served on Pentecost. Consisting of almonds and melons, it is flavored with kirsch and is a real treat! We bring you a simple recipe that you can make at home and serve as a dessert for your special dinner on the day of Pentecost.
The history of Le Colombier has several origins. For some, this cake symbolizes the creation of the city of Marseille, because Giptis slipped a bean in the shape of a dove (a symbol of the Holy Spirit), promising marriage to whoever finds it. A sailor from Phocaea named Protis would have found him, and Massilia saw the day of their union.
see also
Others say that the origin of the Colombier dates back to the early 20th century on the occasion of a competition organized by Marseille pastry chefs to make a travel cake. It was necessary that the cake not be refrigerated to facilitate transportation along streams during a picnic. And Colombier would have been born! Whoever finds the beans inside must get married within a year.
Le Colombier, Marseille cake for Pentecost
But this traditional recipe from Marseille is somewhat lost today. However, we still enjoy this special Pentecost dessert! With candied biscuits (oranges and melon), kirsch syrup, apricot filling and crushed almonds, Le Colombier has everything to please your gourmet taste buds. Don't forget to hide the porcelain dove (or torch if you don't have one) to determine who's next to get married this year!
Now that you know all (or almost all) of Colombier's history, you should prepare it at home for Pentecost! After a traditional veal dish, treat your guests to a slice of this delicious pie to end your meal in style!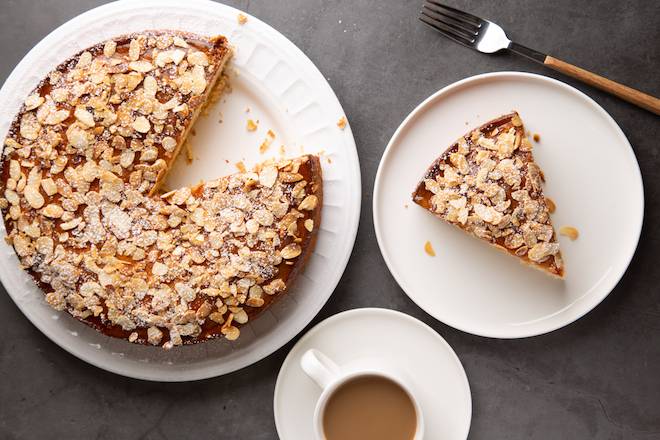 PENTECOST COLOMBIER RECIPE
For 6 people
Ingredients:
For cookies:
– 80 g almond powder
– 80 g of powdered sugar
– 25 g candied orange paste (or candied oranges cut into small cubes)
– 1 egg
– 25 g kirsch
– 120 g egg yolks (about 6)
– 40 g flour
– 40 g cornstarch
– 180 g egg whites (about 6 pcs.)
– 20 g sugar
– Candied Melon
– Apricot Glaze
– Roasted Almonds
For syrup:
– 50 g of water
– 50 g sugar
– 10 g kirsch or orange juice
Training :
1. Mix ground almonds and powdered sugar, then add candied orange paste (or small pieces of candied oranges), whole egg and kirsch. Mix well and add egg yolks. Beat everything with a mixer until the preparation turns white.
2. Pass the flour and starch through a sieve and use a spatula to mix them into the previous workpiece.
3. Beat the egg whites with the sugar until stiff peaks form. Add them to the mixture, stirring gently.
4. Grease a 20 cm circle with oil and place it on a baking sheet lined with baking paper. Pour the biscuit mixture 3/4 full and spread candied melon pieces all over. Hide the pigeon and cover with the remaining cookie dough.
5. Bake for 35-40 minutes at 180°C.
6. In the meantime, prepare the syrup: bring water with sugar to a boil. Turn off heat, add kirsch or orange juice and let cool.
7. When the cake is ready, soak it in the syrup and let it cool completely before removing it from the mold.
8. Brush with apricot glaze and sprinkle with toasted almonds. Serve the colombie.